Vor nun fast einem Monat sind Marlen und ich in Sulden am Ortler ins Ziel des Transalpine Runs 2017 eingelaufen. Emotional ist es, als ob wir gerade erst die Ziellinie überquert hätten. Aber rational, als ob es schon ewig her ist.
Wir hatten uns vorgenommen, genau wie letztes Jahr, täglich einen Rennbericht mit ein paar Bildern von der Strecke hochzuladen. Der Wille war da, allerdings haben wir – Marlen ganz besonders – die Zeit nach der Etappe bis zum nächsten Start zur Regeneration gebraucht und haben diese Art der Berichterstattung nach 3 Etappen eingestellt.
Daher ist es nun Zeit für ein Fazit unseres zweiten gemeinsamen Transalpine Runs.
Darf man dabei das Resümee vorweg nehmen? Klar, ich mach es einfach. Und das ohne dabei auf die leidige "zu viel Asphalt/ zu wenig Trail – Debatte" einzugehen.
Als Vergleich spukt uns der TAR 2016 (Garmisch-Partenkirchen – Brixen) im Kopf herum. So dass in den Gesprächen in unserm kleinen Team die Sätze oft mit: "Also, letztes Jahr…" begonnen haben.
Ja, wie war der TAR dieses Mal? – Es war ein harter Wettbewerb, der uns beiden viel, eigentlich alles, abverlangt hat!
Strecke und Landschaften waren wunderbar und unglaublich schön. Die gesamte Veranstaltung perfekt von PlanB organisiert, es herrschte eine einzigartige Atmosphäre. Der TAR ist schlichtweg ein tolles Event, sehr emotional mit viel Herz, Gefühl und auch Tränen.
Mit neuer (anfangs gerappter) Eingangsmusik "Eye of the Tiger" bei den abendlichen Briefings. Ungewohnt, doch irgendwie passend – ein echter Plautzer.
Das Team an der Strecke, das die Läufer unermüdlich anfeuert, ist der Hammer! Und die Verpflegungsstände alleine wären ein Grund, den TAR jedes Jahr wieder zu laufen.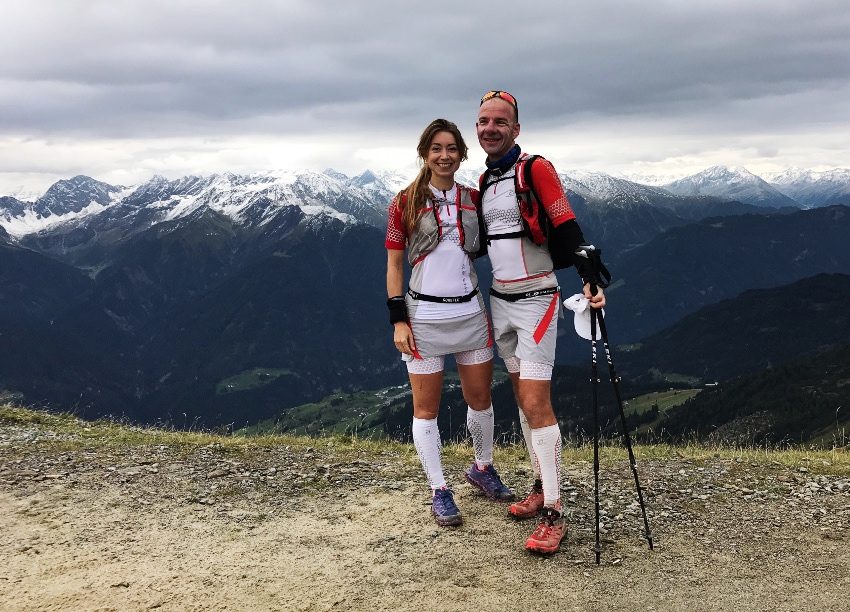 Jetzt aber der Reihe nach: Die Rahmenbedingungen waren für Marlen und mich diesmal alles andere als optimal.
Von "gut vorbereitet" oder "trainiert" zu reden, wäre der glatte Hohn. Marlen hatte knapp vier Wochen vor dem TAR, unserem Jahreshöhepunkt, sehr überraschend eine OP. Ihre Teilnahme war bis kurz vor dem Start noch unsicher.
Mir ging es nicht wirklich besser, denn ich hatte vor dem TAR einen Bandscheibenvorfall. Es war nicht mein erster. Vom Timing her allerdings richtig blöd, denn am Freitag vor dem Start in Fischen konnte ich mich kaum bewegen. Als ich dann am Samstag in München aus dem Auto stieg, um Marlen abzuholen, musste ich grinsen. Wie wir zwei uns trotz allem aufmachten, den Alpenhauptkamm zum wiederholten Mal zu überqueren!
Die Worte meines Physiotherapeuten von vor fünf Jahren fielen mir ein. Der sagte damals zur Indikation Bandscheibe: "Willkommen im Club! Einmal drin, immer drin." – wie wahr.
Was hieß das nun? Sarkastisch gesprochen: Super Voraussetzungen, um auf einer technisch teilweise sehr anspruchsvollen Strecke zu zweit jeden Tag einen Marathon oder mehr, jeweils mit vielen Höhenmetern, an sieben aufeinander folgenden Tagen in möglichst kurzer Zeit zu laufen. Es gibt Leute, die nennen das Extremsport. Im Willen das zu tun und anzukommen, waren wir allerdings beide mental top vorbereitet, denn wir wollten das unbedingt schaffen.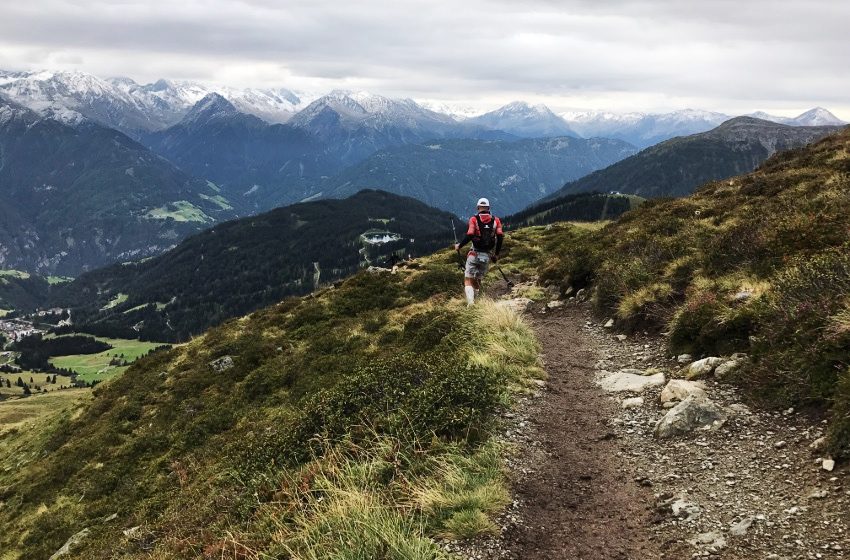 Die Freude aufs Laufen überwog, als wir am Sonntag, den 02.09., tatsächlich gemeinsam in Fischen im Regen zu "High way to hell" im Startblock standen. Marlen lächelte bei meiner Frage danach zwar sehr gequält, aber letztendlich konnten wir beide nicht glauben, jetzt doch hier zu sein und starten zu können.
Das die Route hart, genauer gesagt härter als die Ostroute Ruhpolding-Sexten oder die letztjährige Strecke Garmisch-Partenkirchen – Brixen werden würde, war uns angesichts des Streckenprofils und der Höhenmeter klar. Somit wussten wir, worauf wir uns einlassen werden. Wir laufen ja nicht gegen den Berg als Gegner, denn das haut einem dann mental den Stecker raus und dann hat man verloren. Somit haben wir versucht zu genießen, was ging. Denn die Strecke selbst war meist hochalpin, jede Etappe auf ihre Art ein Traum. Klar, manchmal hätte es mehr Trail sein können! Für das zeitweise Laufen auf Asphalt haben uns dann aber immer wieder Ausblicke wie aus dem 3D-Kino entschädigt. Das ist es, was zählt!
Und natürlich liegt der Reiz, sowie die Herausforderung dieser Veranstaltung auch darin, diese sieben intensiven Tage gemeinsam im Team und als Team zu meistern. Idealerweise als die gestartete Zweierseilschaft dann auch gemeinsam im Ziel anzukommen …
Die Teampartner sind nie ganz gleichstark, die Tage nie gleich gut oder schlecht. Denn die Strecke, das Wetter, die Tagesform, der Magen, die Ernährung – alle diese Komponenten kommen zusammen als bunter Mix und machen das Ganze mit den sonstigen Rahmenbedingungen zu dem, was es ist: Ein geiles Mehrtages-Etappenrennen von zwei Läufern über die Alpen von Deutschland nach Italien. Genau das ist es! Im englischen "lifetime experience" genannt. Ich glaube ihr wisst genau, was ich damit ausdrücken möchte. Es ist kaum in Worte zu fassen, was in uns vorgeht, wenn wir an den TAR denken. Wir sind süchtig, im positivsten Sinn.
Wenn du jeden Abend im Rahmen der Pasta Party mit strahlenden Augen die Bilder und das Video des Tages, hinterlegt mit der entsprechenden Motivationsmusik siehst, dann ist dir vollkommen klar, das du am nächsten Tag wieder loslaufen wirst.
Dieses "Raum Zeit Kontinuum", in dem wir nur mit uns beschäftigt, außerhalb von Zeit, Ort und Weltgeschehen unterwegs sind, stellte sich auch diesmal sehr früh ein. Völlig selbstvergessen jeden Tag laufen, während die anderen im Büro sitzen, was gibt es schöneres?
Es lief in diesem Jahr nicht so, wie wir uns das in den Monaten zuvor ausgemalt hatten. Aber wir haben das Beste daraus gemacht und mit dem beruhigend-vorhersehbaren Tagesablauf, auf den wir uns eingelassen hatten, sowie die ständige Kommunikation zwischen Marlen und mir haben wir es immer als Privileg gesehen, täglich laufen zu dürfen und dieses Erlebnis mit den anderen Gleichgesinnten Verrückten teilen zu können.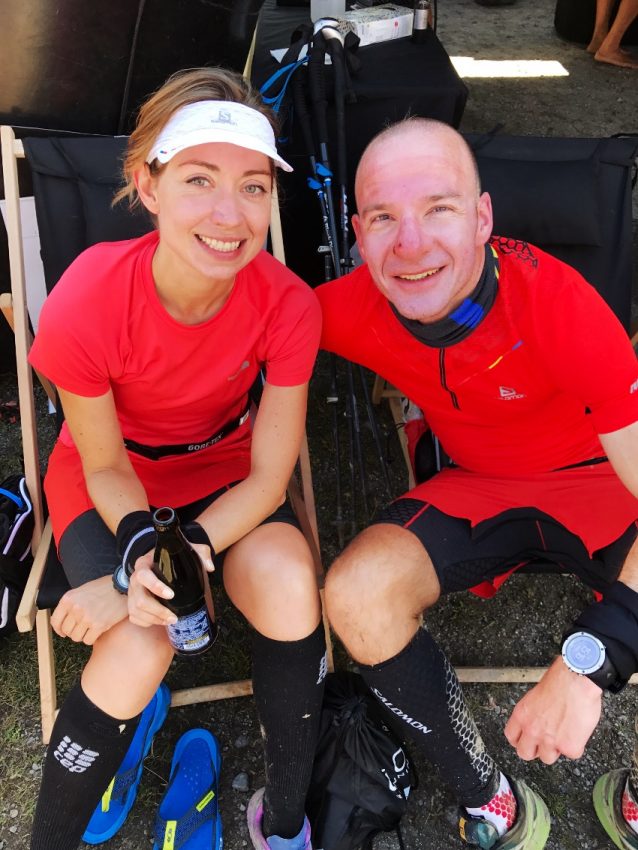 Nach der fünften Etappe ist Marlen an einem Punkt gewesen, an dem wir beide beinahe zu dem Schluss gekommen wären, dass sie aussteigen muss. Wir sind an dem Abend nicht zur Pasta Party gegangen, waren statt dessen Pizza essen, haben geredet und die endgültige Entscheidung auf den nächsten Morgen vertagt. Das hat ordentlich Druck raus genommen und dann standen wir auch am sechsten Tag wieder nebeneinander am Start.
Den Geist des Transalpine Runs definiert ja jeder individuell für sich. – Es kann die ganz persönliche Herausforderung sein, oder der Abenteuergeist, für sich ganz neue Erfahrungen zu machen. Aber die meisten schätzen das am Transalpine Run am meisten, was auch Marlen und mich an diesem Rennen so fasziniert – das große Miteinander unter den Läufern. Das, was wir scherzhaft Klassenfahrt nennen.
Dazu kommt – und das täglich, stündlich, manchmal minütlich: Die Begeisterung und Unterstützung unserer Teilnahme durch unsere Familien, Partner und Freunde.
Wir hatten bereits geschrieben, dass wir wieder eine WhatsApp Gruppe gebildet hatten, um nicht ständig am Telefon zu hängen. Das war unheimlich praktisch, denn mit ein, zwei Nachrichten mit Foto pro Tag wussten alle wie es uns geht. Und wir konnten in unserer TAR-Blase leben. Die Gruppe hatte weit über 30 Teilnehmer und die Kommunikation darin bekam eine Eigendynamik. Anfeuernde, motivierende Mitteilungen in der Früh, während der Etappen und dann im Ziel waren schlichtweg wohltuend.
Dazu müsst Ihr wissen, das ich mein Telefon stumm geschaltet hatte, aber alle Mitteilungen auf meiner Suunto-Laufuhr landeten – geniale Technik!
Wir sind im Wissen gelaufen, die anderen sind immer bei uns und fiebern mit. Das schafft auch eine unheimliche Verbindlichkeit. Also auch wenn es mal richtig hart war, wir konnten nicht aufhören weiterzulaufen. Sobald wir eine Zeitnahmestelle überquert hatten, trafen die ersten Kommentare ein. Die habe ich Marlen dann oft vorgelesen, um mit ihr zu teilen, wer in dem Moment alles an uns gedacht hat. Gerade auf der letzten Etappe, die sich beinahe endlos zog, hat diese mentale Unterstützung unheimlich gut getan.
Wir waren so gesehen nicht nur ein Team bestehend aus uns beiden Läufern, sondern eine riesige Mannschaft. Gemeinsam haben wir es zum zweiten Mal geschafft, den Transalpine Run bis ins Ziel zu laufen.
Nachtrag Marlen:
Gesundheitlich angeschlagen in einen so anstrengenden Wettkampf zu gehen ist unter Garantie nicht die beste Entscheidung Ich bin immer noch ziemlich hin und hergerissen, wie ich meine Teilnahme bewerten soll. Ja, wir haben es geschafft und ihr könnt hier unsere Sehnsucht-Bilder von einer wahnsinnig intensiv gelebten und gelittenen Woche anschauen.
Genau wie bei den Jackass-Videos, bei denen eingeblendet wurde "Don't try this at home." muss ich auch ehrlich sein und sagen, der Transalpine Run ist ein hammerharter Lauf! Und ich war eben so stur und wollte dieses tolle Erlebnis vom letzten Jahr nochmal spüren: Die Gemeinschaft der Läufer, der Zauber der Strecke, meine mentale Stärke ausreizen.
Wir waren in den Berichten, speziell in diesem Rückblick sehr ehrlich und hoffen, dass euch unsere Texte weiterhelfen können, wenn ihr selbst einmal den Transalpine Run laufen wollt. Für diejenigen, die ihn auch bestritten haben – wie war es aus eurer Sicht dieses Jahr?